It's become apparent that Poppy and I have very different body rhythms. It's not just because she's
younger and me and therefore gets up later and goes to bed later. It's to do with energy patterns and food requirements.
If it was only up to me we'd get up early, get ready to go, have breakfast and leave, get as many miles done as early in the day as possible. We wouldn't eat much. Maybe some fruit or some cereal bars. We'd get to our destination mid to late afternoon and have the rest of the day to chill. An evening meal.  A glass of wine.
Poppy would get up at the last moment before breakfast, then spend quite a while after breakfast getting
ready to leave, maybe being ready at around 10.30 or 11. After a couple of hours walking she's ready for lunch. Proper lunch. She wants to divide the day's walking into two halves and have plenty of food between the two.  She'd arrive early evening, have a light meal and go to bed pretty early as she'd be worn out from walking all day.
If I make her walk all day with no lunch she gets worn out, upset by the insubstantial snacks, close to tears. If I eat a big lunch in the middle of the day I feel weighed down and uncomfortable and don't want to go any further.
Today we had to get up early as we had a train to catch. We hotfooted it out of Hartlepool on the 9.15 to Middlesbrough, and then on to Great Ayton. Cheating maybe, but I reckon Etheldreda would have got the train if she could. And anyway, she was probably travelling on  straight Roman roads, not across clifftops and hilltops. The Roman roads are mostly A-roads now, so that wouldn't be much fun to walk.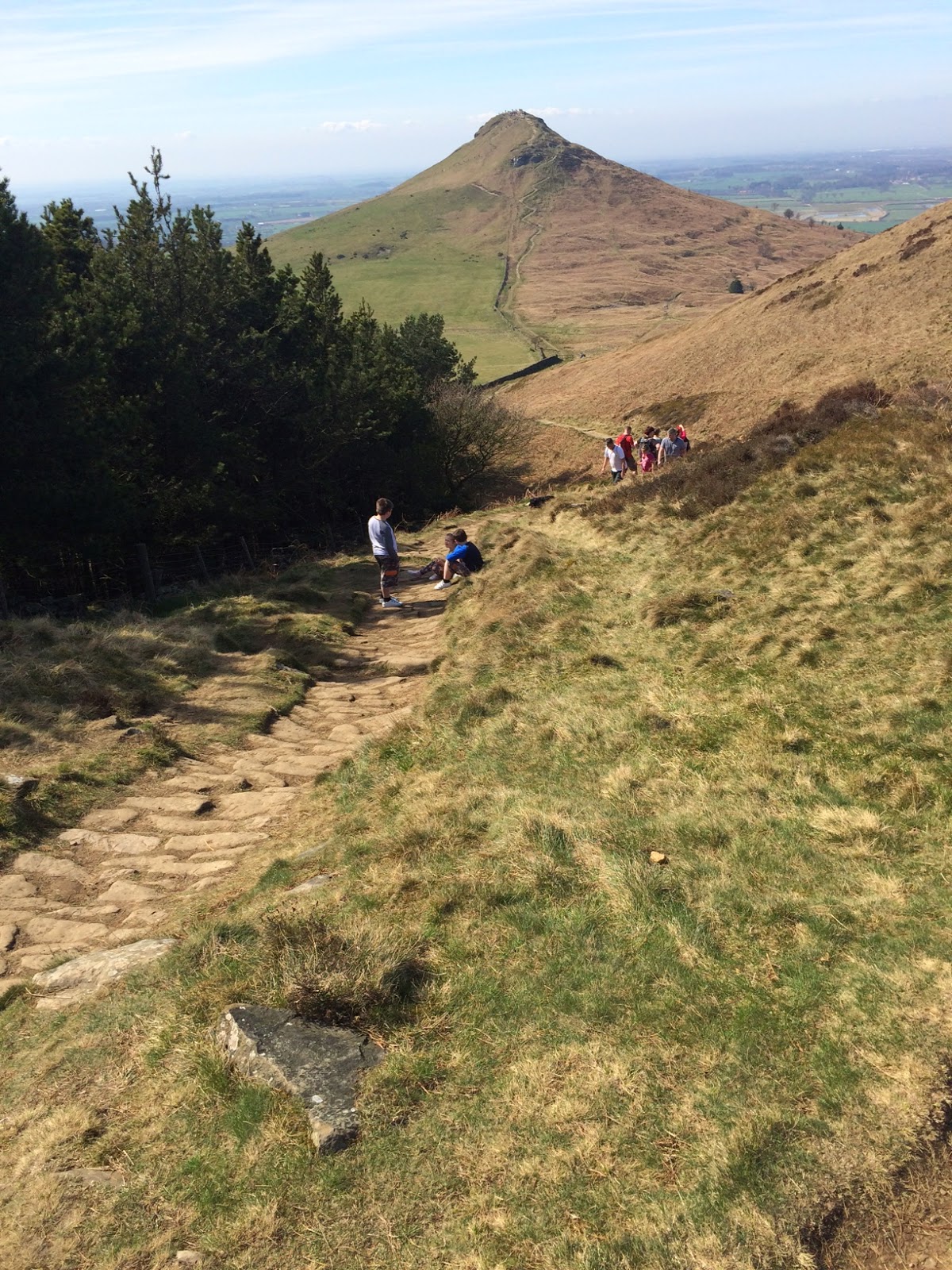 We then joined the Cleveland Way and spent a sunny day walking across moorland and
along forest tracks.
After yesterday  we were quite achey and it was hard going, so we were pleased to see Saltburn hove into sight.
And we enjoyed the winding river path beneath the viaduct.
We were even more pleased to arrive at the Saltburn Spa Hotel where they had provided a dog bed for Bet. It's clean and lovely and we've just eaten a fantastic meal with a view of the sea. And I have a double bed tonight.
13.5 miles