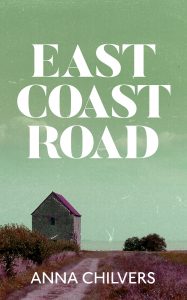 Jen is seeing things that others do not. As university term gives way to the summer break she is plagued by dark memories and the only person there for her is her cousin – a cousin that no one else can see – together they embark on a journey that changes Jen and her world forever.
'Haunting, shape-shifting and tense, 'East Coast Road' takes the reader on a thrilling quest which challenges our preconceptions. Chilvers is a master storyteller and she guides us through the complexities of devotion, faith, tenderness, grief and desire, all set against the rugged coastal edges of north east England.'  Helen Mort

East Coast Road can be ordered direct from Bluemoose Books, or bought from all normal retail outlets. Please support your local independent bookseller wherever possible.
Signed copies are available from The Book Case in Hebden Bridge