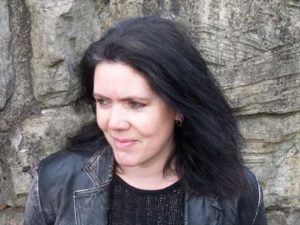 Do you remember the first time you noticed words on a page? I do. It was a children's picture book that I'd looked at loads of times with my mum or my dad or my big sisters or brother. It had a big red dog and a cat and a ball in bright colours. But this time I wasn't looking at them, I pointed at the strange black squiggles at the top of the page. What's that? I asked. That's the story, I was told. I was nearly three years old, and that's when I decided I wanted to be a writer. I wanted to be able to make that magic, to make marks that can lift someone into a world of wonder, that can transfer story from one person to another without speaking, without even meeting. And although I've done lots of other things in my life, and probably will keep finding distractions on a daily basis, I still want to be a writer.
Some of the other things I do you'll find out about in these pages. I am a teacher and a reader and a long distance walker. I am sometimes a runner, always a mother, and I have a bit of an addiction to organizing things such as festivals, competitions, book groups and anything or anyone else that gets too close. But I always say that being a novelist is the best job for a control freak – as the creator of worlds you are in charge of everything.
As well as all the false starts and the complete unpublished manuscript on my shelf, I've written three novels East Coast Road (November 2020),  Falling Through Clouds (2010) and Tainted Love (2016), all published by Bluemoose Books. I have a small collection of short stories, Legging It,  published by Pennine Prospects in 2012 as part of the Watershed Landscape Project. I've had a go at playwriting, and The Room was performed at the Hebden Bridge Arts Festival in 2013. I write poetry too, but am not quite brave enough yet to call myself a poet.
I'm particularly interested in the links between writing, walking and the landscape, and in 2015 I was lucky enough to receive a grant from the Arts Council to walk the five hundred miles from St Abbs in Scotland to Ely in Cambridgeshire as research for my next novel. You can find out more about this in East Coast Story. When I'm not sitting at my desk working on this novel or gazing out of the window, I am often out  walking in the West Yorkshire countryside, getting inspiration from the land and the movement of my body and the air in my lungs.