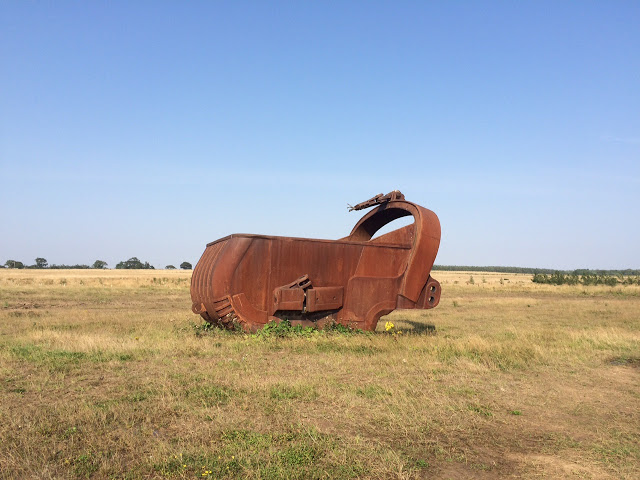 This stretch was always going to be a problem. We were meant to be walking to Newbiggin by the Sea, but they don't allow dogs there. Despite the fact that the only person I've met that lives in Newbiggin has a dog. There was not a single B&B or pub that would take dogs and they're not allowed on the beach either. We could have hired an apartment, but not for one night, only a week. The nearest place I could find was called Middle Stobswood, and it was a long way from Newbiggin,
Having studied the map I decided it was time for another go at the local public transport. We caught a bus from Whitley Bay to Blyth, then another from there to Ellington, passing through Bedlington and Ashington, suburb after suburb. It didn't seem like good walking country.
It's interesting getting local buses. A friend of my mother's used to travel everywhere that way. She used to travel up from the south coast to the Midlands to visit us, and it would take her a whole long day. She'd spent ages before studying timetables. I used to think she was mad, but now I can see the appeal. When the bus you planned to catch back in your kitchen in March turns up at the stop at the right time in August, it's very satisfying. The theoretical becomes actual, numbers on a page a real life bus. And you get a feel of the area from a bus to which it's harder to do from the cocoon of a car.
In Blyth there was a huge centre for renewable energy. Further north we passed  Lynemouth Power Station. There were pylons everywhere – I don't think I've ever seen so many, it was like a pylon forest in some places. There's not much money washing about in this part of Northumberland, but it seems like they're powering the whole country.
Johnny was spotting elm trees from the bus and was very excited. There were nearly as many as there were pylons, and quite a few of them were big.
In Ellington, where we got off, even the streets were names after them.
Wilf was amused that The Elms was the one road with no elms on it.
We had drink outside pub. Even though we hadn't started walking yet, we considered Sunday lunch as there was no guarantee we'll find food later. But the pub didn't allow dogs inside, so we bought sandwiches in the shop and started walking.
Not the Northumberland Coast Path today, but other footpaths marked on the map. As we progressed we realised that being marked on the map didn't mean that much.
After crossing a stream into another field, the path vanished among the long grass.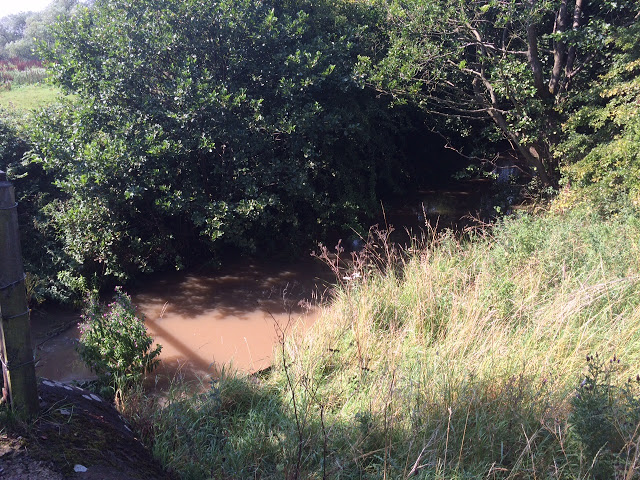 Field edge, then another field edge, and another where the wheat was sown right up to the hedge, the path was meant to pass under the railway line. The stile led to a jungle of nettle, bramble and blackthorn.
Johnny had a go at slashing them with the dog lead, but this was like the forest surrounding Cinderella, and he obviously wasn't Prince Charming as they didn't yield. He got stung a lot and swore a lot. We gave up, and tried another field edge.
This one led to an impenetrable hedge, so we tried a third, and eventually found an escape route up a lane and out onto a road.
By then we'd walked three sides of this field.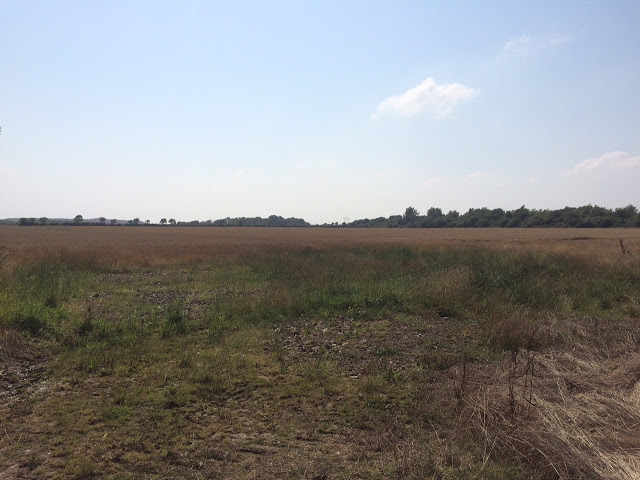 We crossed the railway line at the level crossing and continued along the road toward Ulgham (pronounced Uffham).  The next obstacle was a ford.
It rained last night. Like, really rained. Three hours or more of torrential rain with lightning and thunder. It was pretty exciting from inside our B&B in Whitley Bay. I wished we had a sea view, but didn't want to take a walk to the end of the road.
But what that meant is that everywhere was wet today, even though it was sunny. It meant that rivers and streams were swollen. It meant that the ford had a fair amount of water in it.
I went first. I took off my socks and shoes and rolled up my trousers and paddled. It was well over my ankles. Both Wilf and Johnny decided to keep their shoes on and they got very wet feet..
On the other side as I sat putting shoes and socks back on and the others inspected the damage, a group of lads came walking over a footbridge behind us and we saw the way we should have come.
In Ulgham we sat near the church and ate our sandwiches and chatted to a woman who told us there were no shops, and looked surprised when we said what direction we were headed.
Then we set off. The path we intended to take through some woodland was worse than the last. No one had walked these paths for years and it was impossible to get through. We took to the road  and to where the map shown a permissive path over open cast mining land.  It wasn't permissive – there were huge notices telling us to keep out.  Instead we followed a path of sorts across reclaimed mining land where lasts night's rain was gathered in pools. It was boggy, wet, unpleasant walking.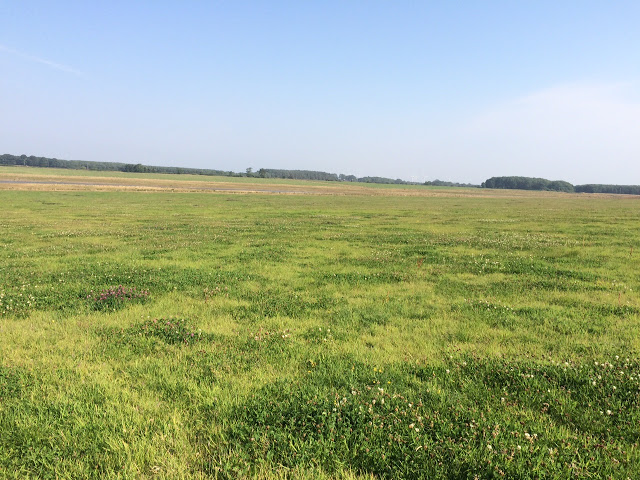 Though Bet liked it amongst the clover.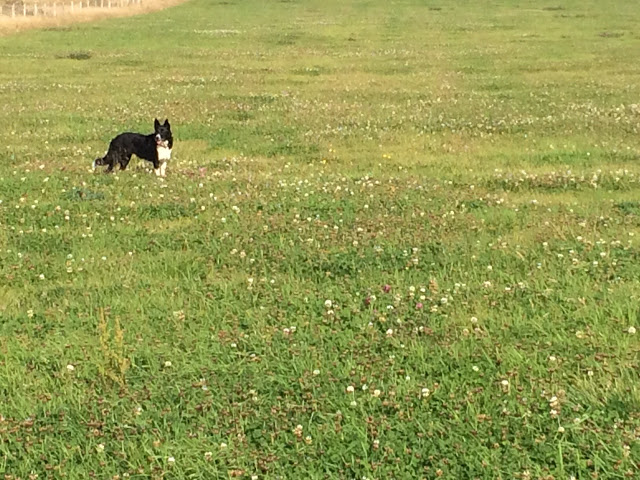 The last bit was along a busy road with thistles in the verges. Eventually we reached Middle Stobswood where we given a friendly welcome by dogs, cats, chickens, ponies and our very helpful landlady. We were right about one thing –  there was no food within reasonable distance. She came to the rescue with cheese and crackers and tomatoes.
6.5 miles.