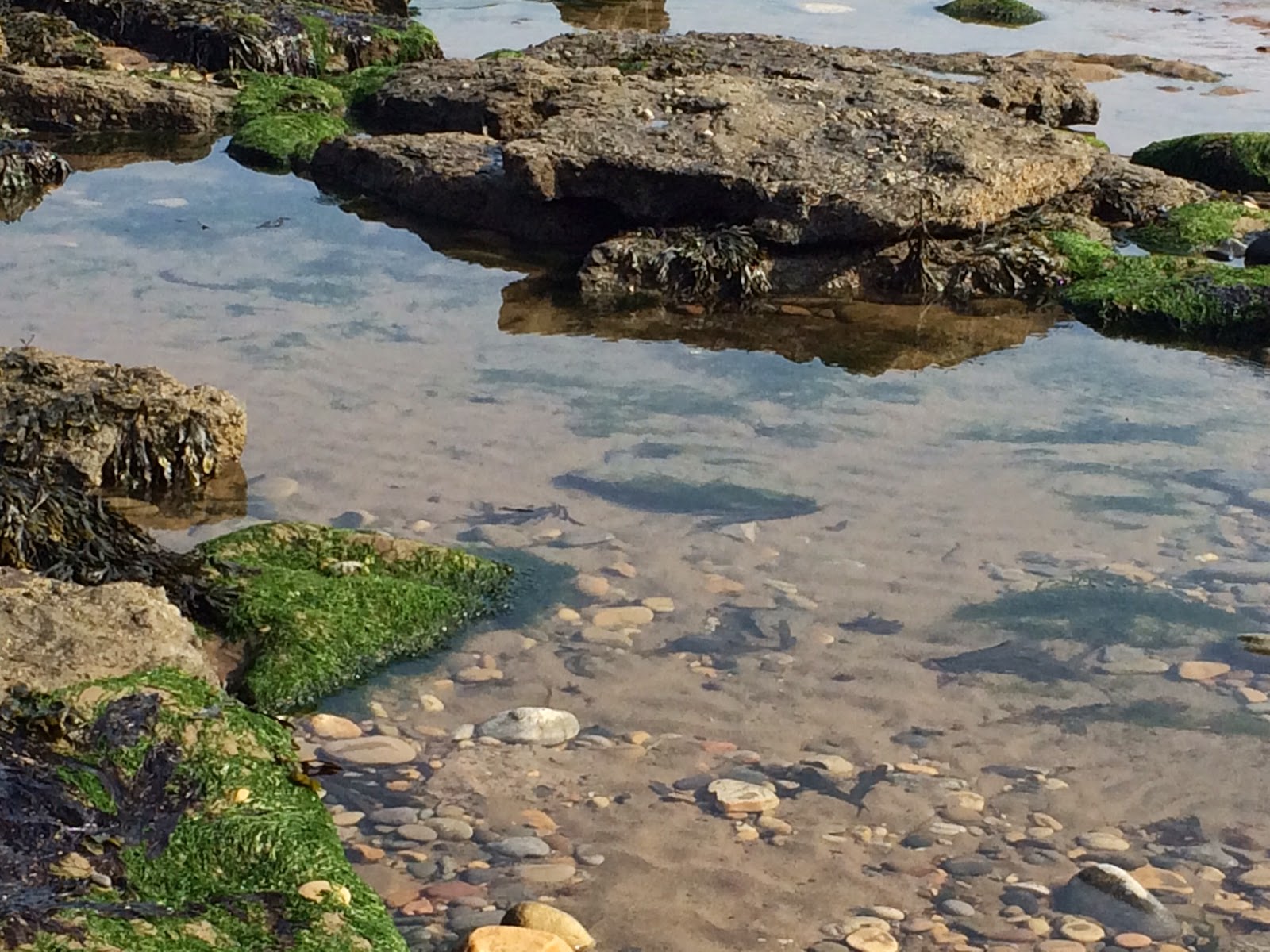 To me it was a no brainer. The landlady at our B&B said, when the tide's out you can walk the first mile or so on the beach, missing out two steep climbs. A win on every front. Poppy said nothing.
On the way down the hill we met two small boys who asked if we were going to the beach. I said yes and Poppy said nothing.  The older boy, whose name was Daniel, said, I want to find a fossil. His younger brother said, I want to find a crab as big as Daniel. When we'd stopped laughing and the boys had run off to their parents, Poppy said she didn't want to go along the beach.  So we separated – I took the low road and she took the high road, and I was at Stoupe Beck before her – but realised I'd dropped the dog lead on the beach and had to go back for it.
It was pretty much uphill from there all the way to Ravenscar – the village on the hill that was meant to be built up into a resort, but never was.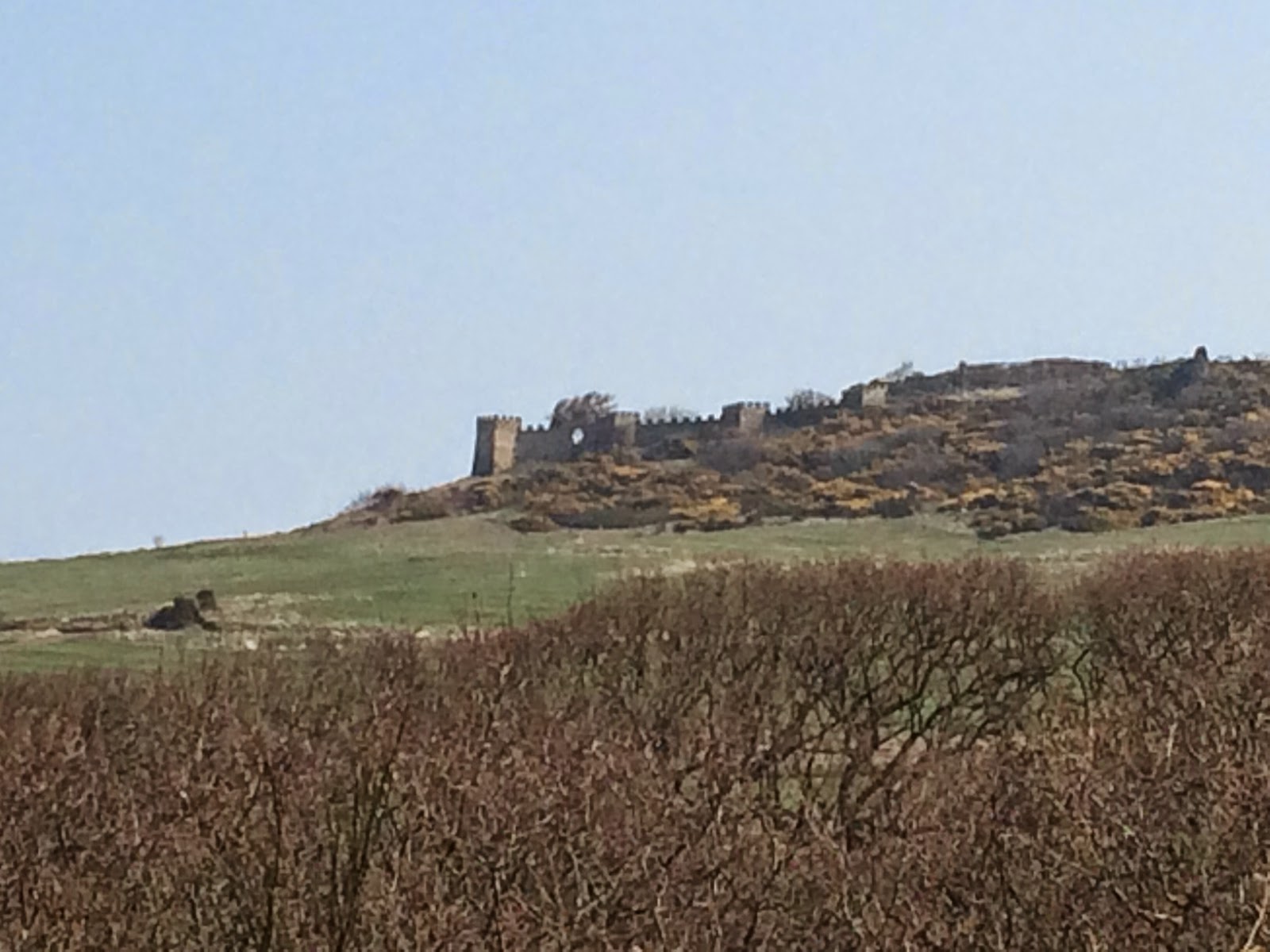 We bought ice cream and looked at the outside of the National Trust shop which was shut. (Poppy wanted to buy a keyring and a postcard and was very disappointed.)
Then onto the coastal path. For most of the next ten miles the path ran in between a fence which marked the edge of fields and a drop into the sea which was sometimes utterly terrifying and sometimes not. Sometimes only three feet wide, sometimes a comfortably wide band.  Once or twice it dropped down almost to sea level, and then climbed up again with interminable steps.
I wondered if it would get tedious, but after a while I got into a rhythm. The sun was shining and the sea
was blue. There was the constant sound far below of waves on the shore, and seagulls flew above and below, calling into the still air. The salt mingled with the toasty coconut smell of gorse. If it hadn't been for my trousers rubbing and my sore left toe, it might have become something of a meditative state.
Bet waited patiently to be let in to this look out station on the cliff top
There was Poppy too of course. At Ravenscar we encountered some flies. When we set off they didn't go
away. The sunny weather had brought them out and the air was full of them. They liked the suntan oil on Poppy's arms. Poppy didn't like them and complained vociferously until they went away, which was after a mile or so. She then cheered us both up by imagining a nature programme about us, narrated by David
Attenborough, saying things like this: In general the species Homo Sapiens is known for its endurance, but this plague of flies is proving too much for the young female. She walks ahead of her mother mewling in protest.
All in all it was a pretty good day. It started at 6.30 when I took the dog out for a wee and looked out
at Robin Hood's Bay in the early morning light, listened to the seagulls and thought it was a sound I would happily live with.
It ended in Scarborough.
I've always loved Scarborough and had a secret – or not so secret – hankering to live here. Today did nothing to change that. On previous visits, walking up to the castle, or between the North and South Bays, I've walked past a B&B called Castle by the Sea and thought what a wonderful place it looks. Well, we're staying there! I'm so excited! It is every bit as wonderful as I hoped. There are big wooden doors with iron hoops for handles. There are brocade cushions with tassels. We bought hummus, olives, salad, cheese, wine, smoked salmon, and ate it out on the patio as the sky went dark.
15 miles