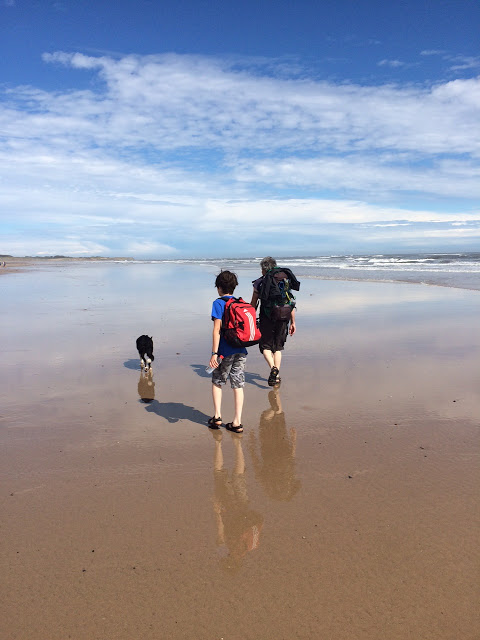 Today we walked along an eight mile deserted beach to a pretty town. It was the most enjoyable day's walking so far, the day after the worst.
Our lovely host from Middle Stobswood drove us to the coast at Cresswell, saving us an hour or two's walking on roads and field edges. We got out of the car, walked across a small car park and onto the beach.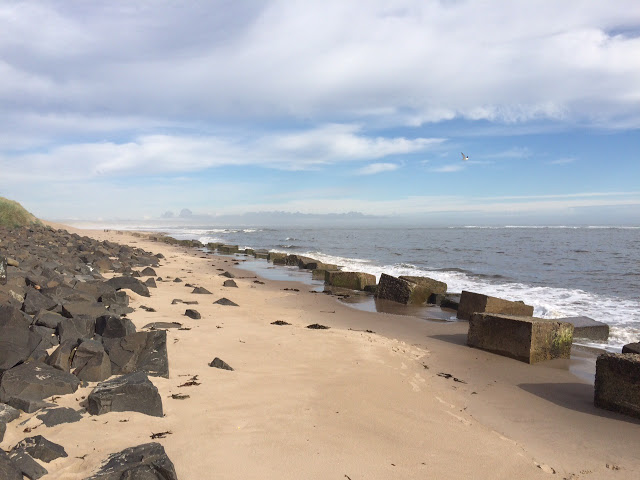 And we'd got another 8 miles of this to go. Johnny said, this sort of monotony I can handle.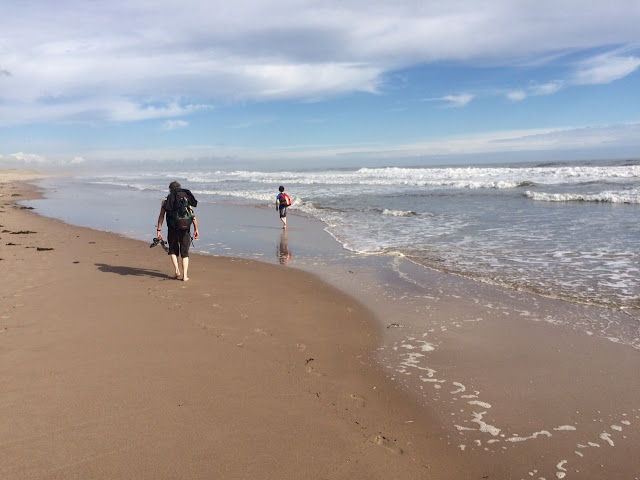 We took off our shoes and dodged the jelly fish.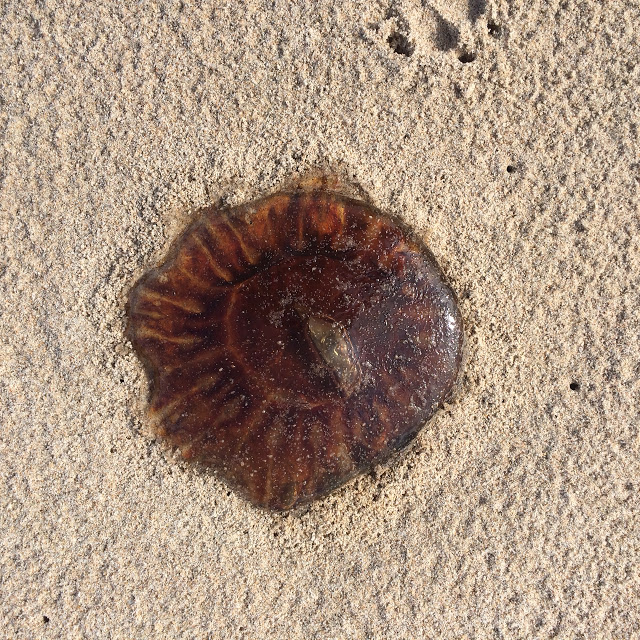 The tide was in so we were walking on soft sand at the top of the beach, which is pretty hard work. After a couple of miles we moved onto the lane that runs behind the beach, between the dunes and Druridge Nature Reserve.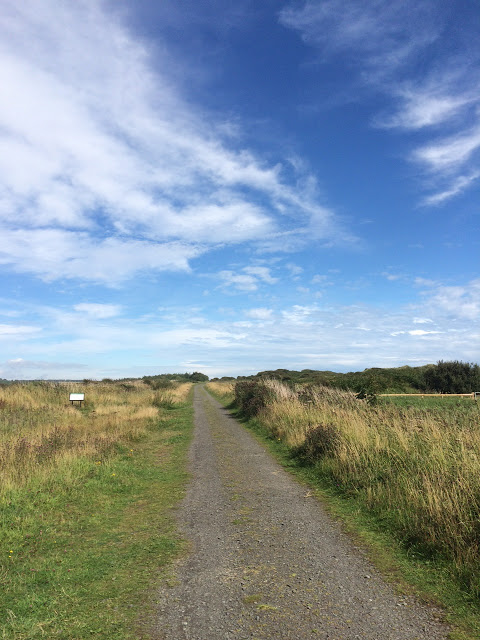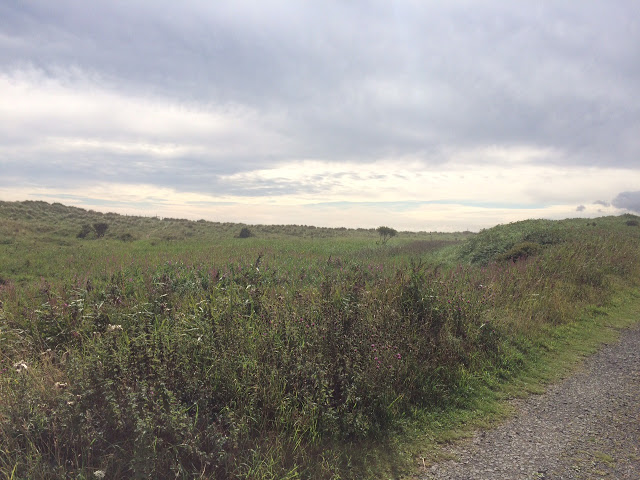 The Reserve is made from reclaimed mining land and they seem to be doing a pretty good job. There are lakes great for bird watching, and loads of flowers.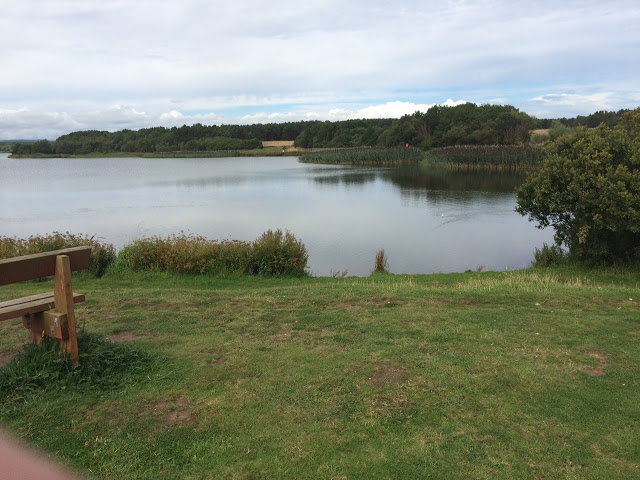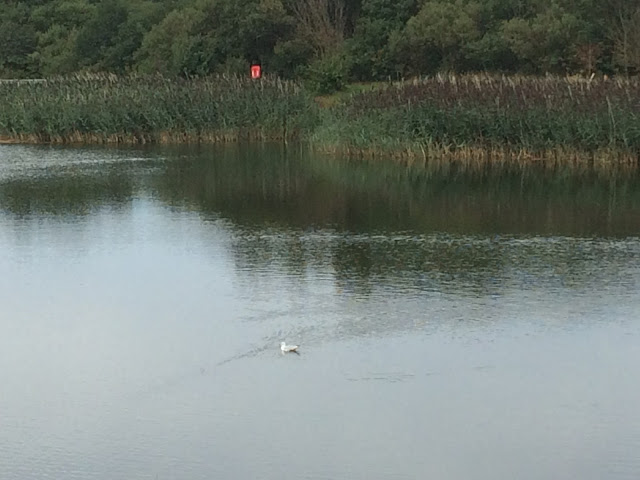 Johnny wanted to spend the whole day botanising.
We saw a pair of stoats come running along the path towards us, darting into the grass at the side just a couple of feet from where we stood. A first for me. They were so much more beautiful in motion than in photographs, lithe and playful with fluffy black tails. Of course they didn't wait to pose for the camera.
At the visitors centre we stopped for a cup of tea. Some of the best moments happen quickly and you wish you'd had the camera ready – in this case on video mode. Johnny was sitting at a bench holding the dog's lead. Wilf threw a ball and she dashed after it, pulling Johhny backwards of the bench in a comedy fall so quick he landed still in sitting position. He swore a lot but admitted later that it might have been a bit funny. Wilf and I tried not to laugh, but people at neighbouring benches didn't do so well.
We headed back to the beach, where the tide had gone out leaving wide stretched of hard sand to walk on.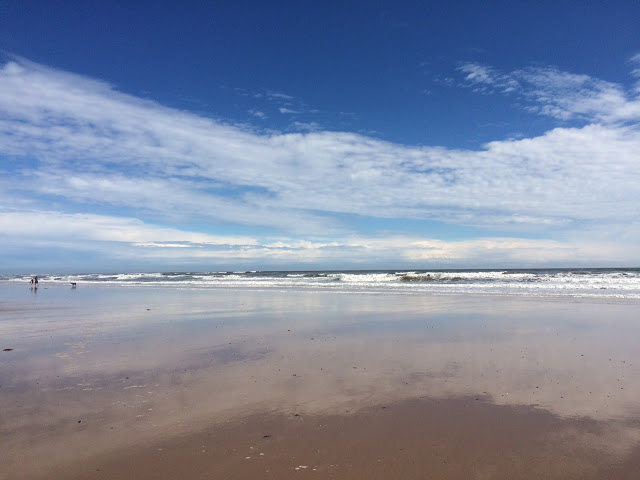 This place has to be the UK's best kept secret. Eight miles of beautiful sandy beaches, waves that look great for surfing, sand dunes. Hardly a soul to be seen, and today was a beautiful sunny day in August.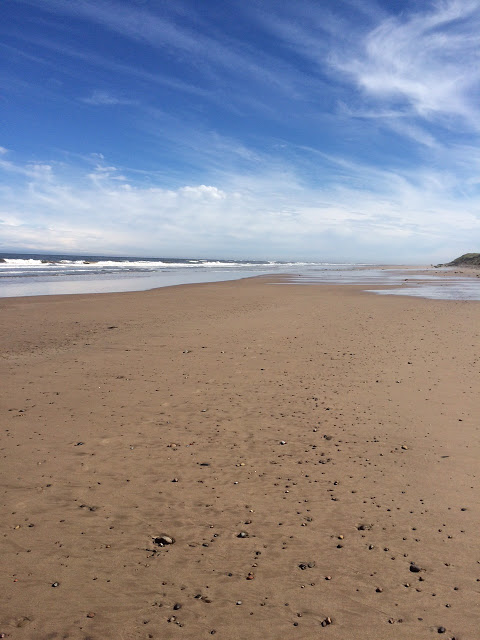 Though we met this seagull taking some dunlin for a walk.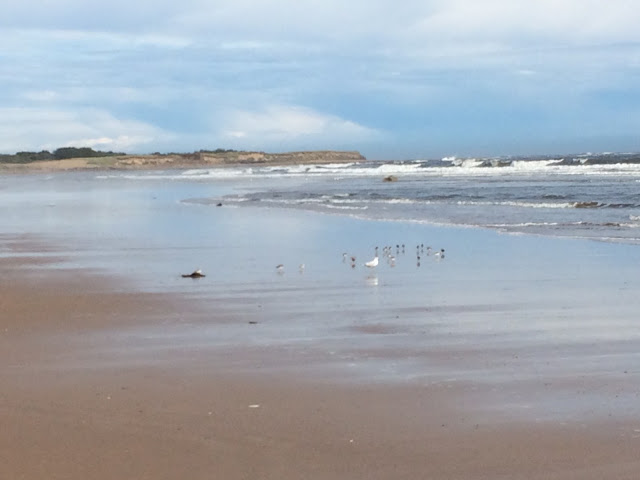 Coquet Island was once a place of religious solitude, then the lonely home of the lighthouse keeper. These days the lighthouse is automatic and the island is an RSPB reserve, home to most of Britain's population of roseate tern. We'd spotted the island from Cresswell first thing in the morning and it seemed impossibly far away. Now we reached and passed it.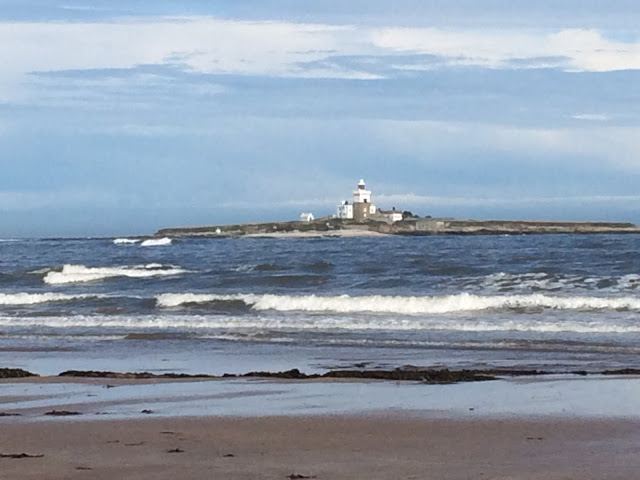 We stopped at the pub in Amble. It's a different world here to the places we passed through yesterday on the bus. Here there are yachts and thriving independent shops. Everything is better tended.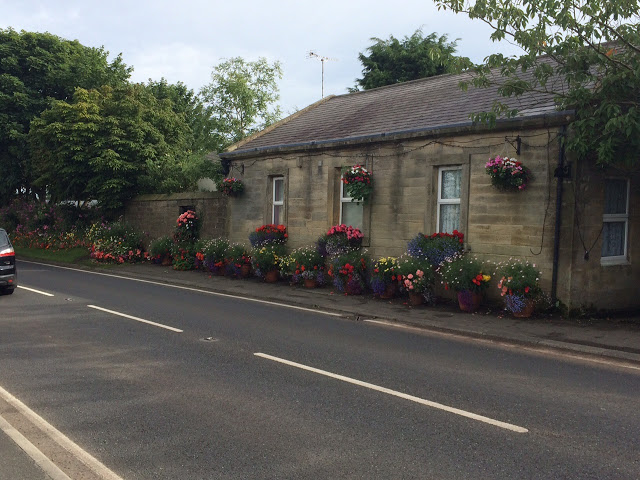 We walked along the riverside path to Warkworth, enjoying the saltmarsh and waders.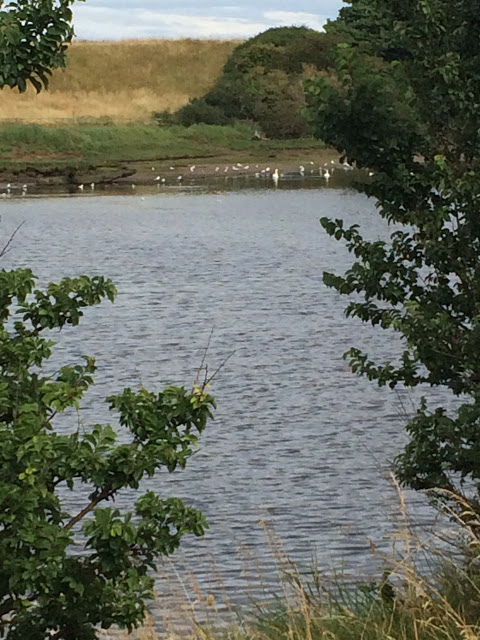 And into the lovely village of Warkworth, which has a fabulous castle, home to the Percy's and featured in Shakespeare's Henry IV, Part One, when it was lost by Harry Hotspur. Who knew?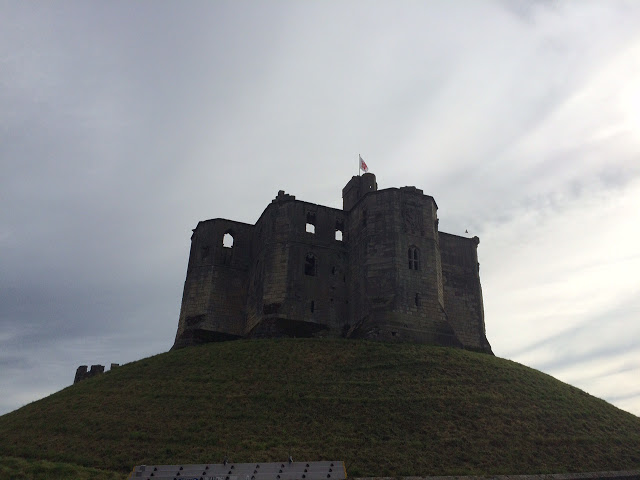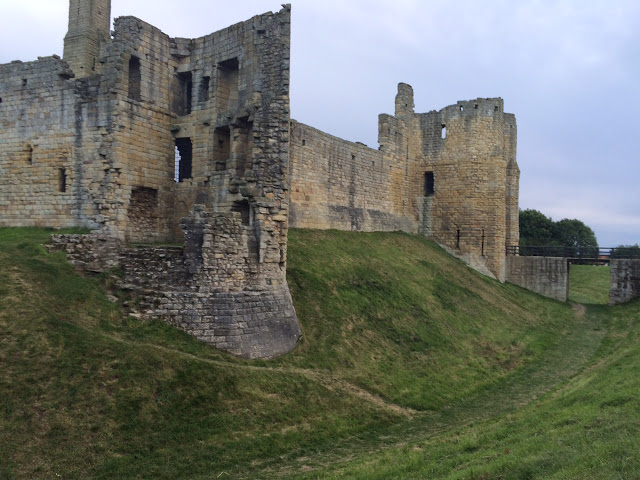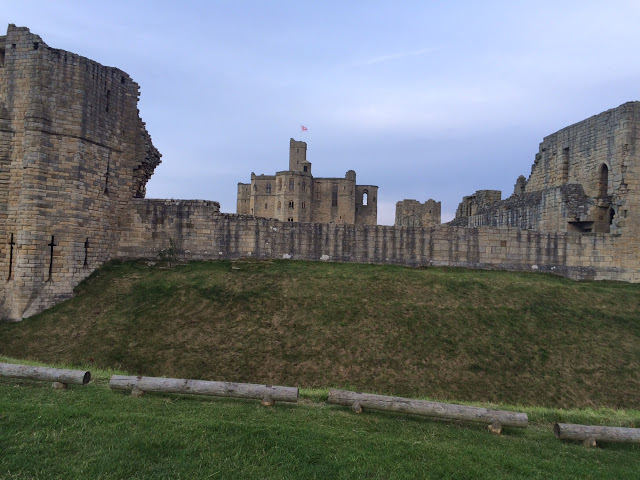 11 miles