We stayed with Mark and Sarah in York and caught the 6.35am bus to Market Weighton. (Thanks Mark for driving us to the station so early and saving us an extra mile of walking). I was daunted by the mileage ahead of us and the possibility of storms, but Poppy's mind was elsewhere. Just before Pocklington she had an epiphany, and the tricky question of what topic to write for her dissertation next year became clear. She spent the rest of the bus ride planning it chapter by chapter. The journey was off to a flying start and we hadn't walked a step yet.
We were in Market Weighton before 7.30am and walked back up the road we'd come in by last time, past the school, but we were earlier than the kids this time. Our backpacks were lighter too, as we only had food and waterproofs – though we had quite a lot of food. We hoped it would seem lighter when we'd transferred it from our backpacks to our stomachs.
Our first challenge (well, Poppy's) came as soon as the path left the road.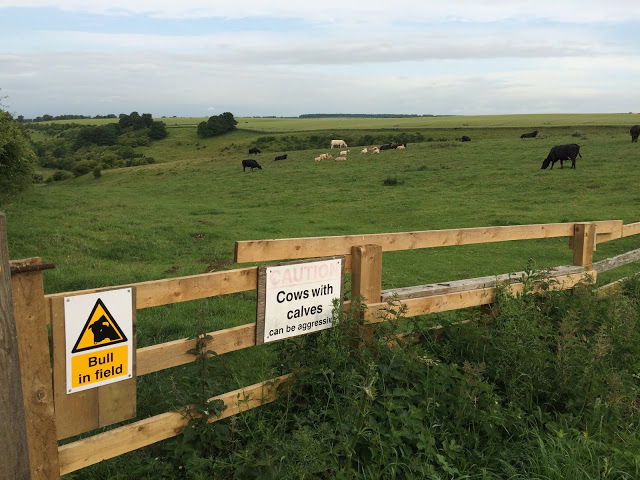 There was no other route, no diversion we could take. The fence alongside the path (escape route!) was barbed wire backed by nettles and brambles. It took her a while, but eventually Poppy climbed over the stile, insisting that I stayed on the 'cowside'. The cows, calves and bull were peacefully grazing. They didn't even look at us. We went over the stile into a field of crops. Would this be the pattern of the day?
The path continued along field edges, tracks and lanes. Poppy started talking about Game of Thrones. Did I mind if she gave spoilers? I said no, I didn't mind. I've never watched Game of Thrones and have no plans to either.  She set off into a complicated explanation of a bit of the plot but I stopped her. Poppy, I don't know what you're talking about. I don't know who all these people are. Well, she said, would you like me to tell you about it? If you like, I said.
12 miles later I have the whole plot of Game of Thrones – every plotline and twist. I love Poppy's telling which I'm sure is not like watching the telly. Then, when they thought they were safe, he was like 'LOL', and beheaded them.
All this time the weather had been pleasantly sunny with blue skies and scudding clouds. No sign of storms.
We walked past wheat, which Poppy looked at close up and fascinated, wondering what would happen if she ate it raw like this, unwilling to try.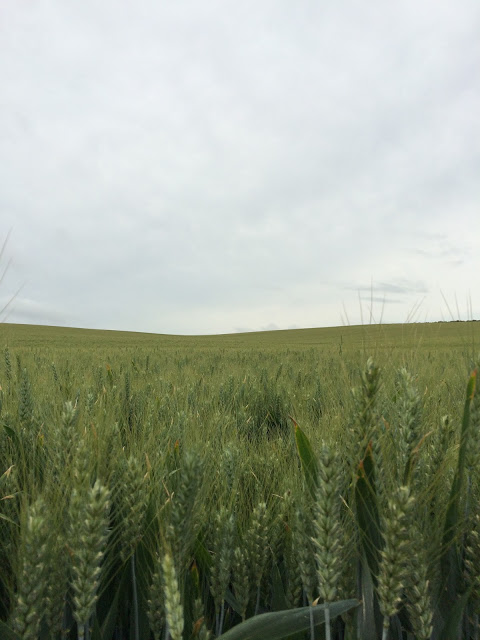 Along another field edge there were huge clouds of tiny flies, biblical in proportions, sticking to the sweat on our arms and faces until we were black with them. Heads down, we tried not to breathe them in, Game of Thrones temporarily suspended. We were nearly out of the field when Poppy got stung by a bee. On the road, away from the flies, we treated the sting with lavender and crushed plantain leaves.
We met some other walkers soon after that and warned them about the flies. They looked as though they thought we were mad and asked how far we were planning to go. They were impressed when we told them and called us athletic. I wasn't convinced.
We carried on and the story continued.
As we walk through Swin Dale with the familiar shape of wold slopes, I hear about daughters burned at the stake.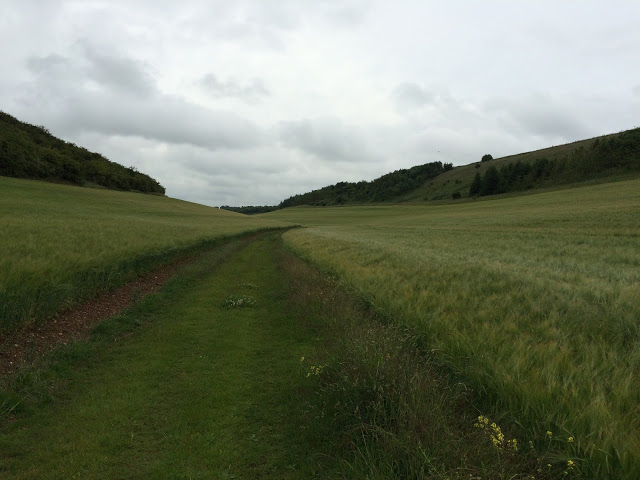 Wind turbines are witness to the killing of kings and the crowning of Viserys with molten gold.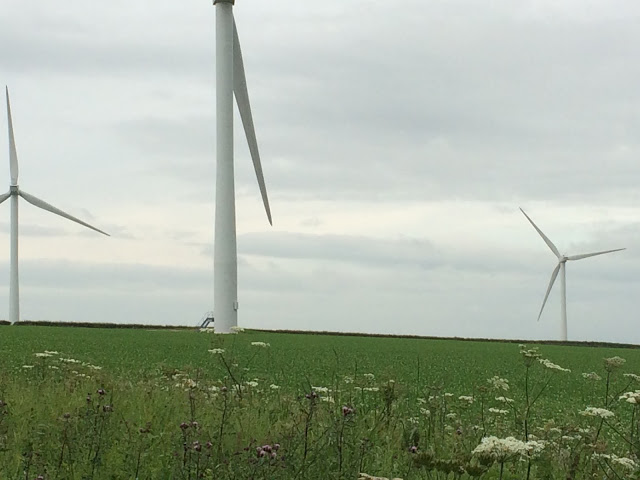 Sheep are shorn as people leap from castle walls.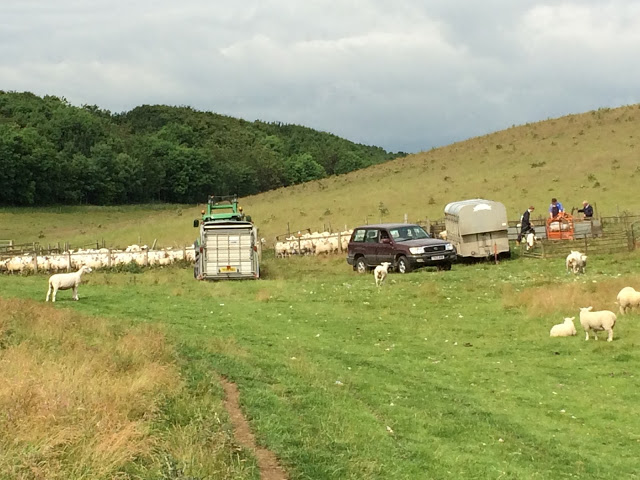 Horses stare to hear the shocking tale of young Arya Stark and her sword, Needle; travelling alone, making no friends, with only a kill-list for company.
Cersei Lannister walks with us in shame along wide muddied forestry tracks until we reach a pond and the fields begin again.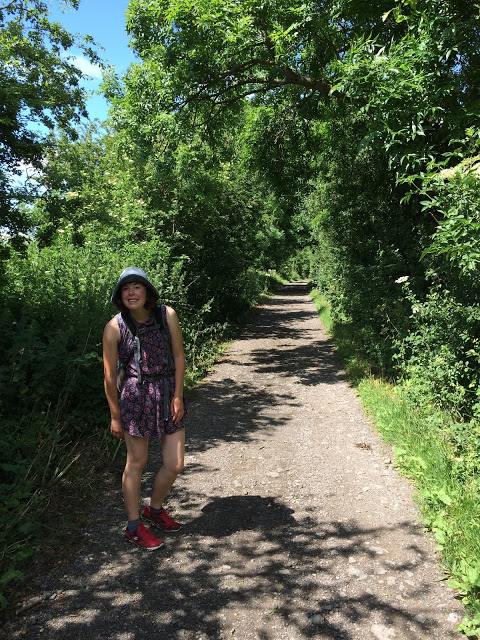 Drax power station is always in view, far to the west as Daenerys wakes naked from the fire draped with dragons, in the north by the time blood stains the ground beyond The Wall.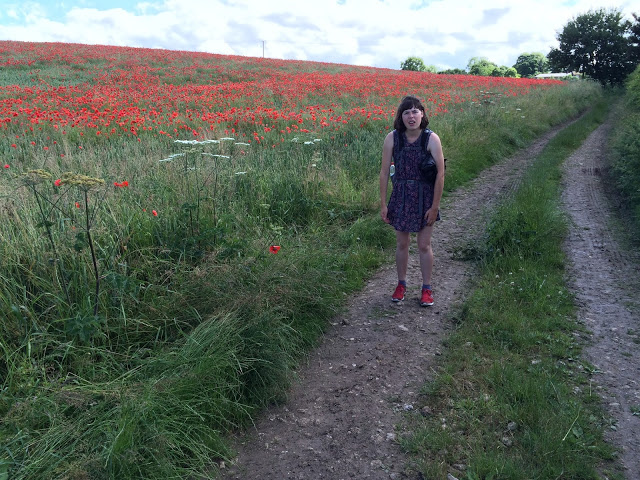 I've never known twelve miles to pass so quickly. Two more and we were in Brantingham. The sky had darkened.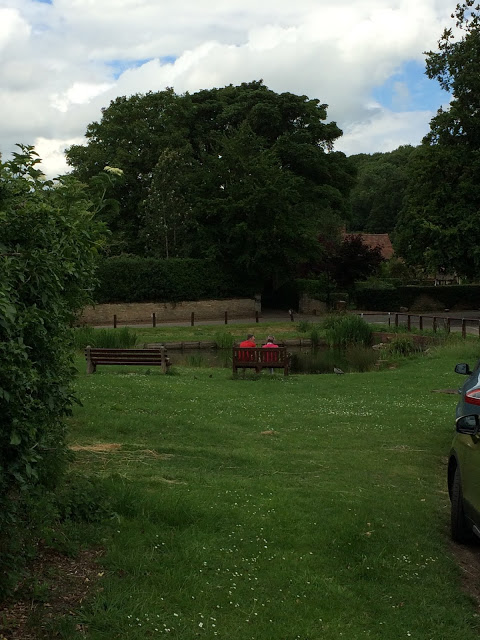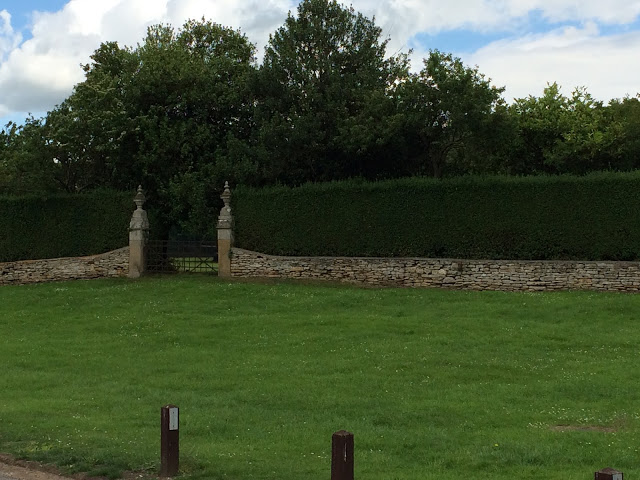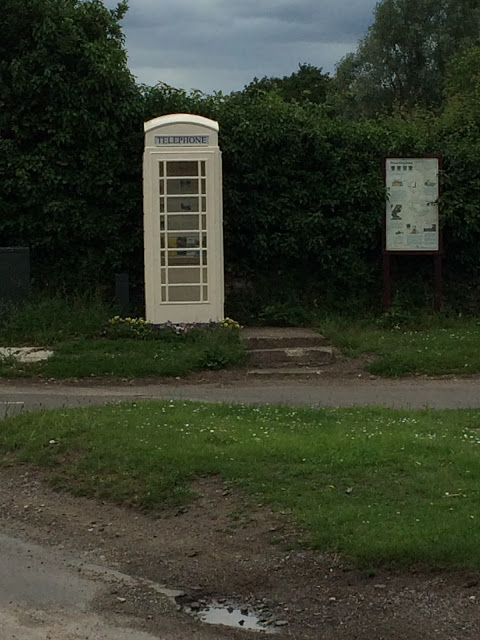 We took a diversion, past the village green and a cream coloured phone box (actually a Tourist Information box – there's no phone, but racks of leaflets) and got to the pub as the rain started. We just had a drink as our bags were full of food, but the pubfood looked amazing – tall sculptures of chips and fishcakes, deep bowls of steaming pasta and soup. Tuesday lunchtime and it was busy – including a large group of mummies and babies doing lunch, their pushchairs and laughter filling the pub.
Outside the rain had slowed. We ate our lunch in a bus shelter serenaded by the lowing of bullocks.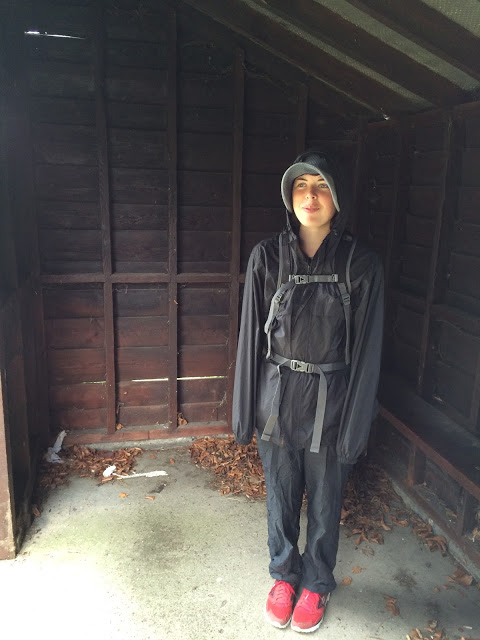 Onwards. We took our coats off as the sun came out, put them on again as the rain came down, and so on, off, on, off, on. By the time we reached Welton there was thunder. Should we take shelter in the church or keep on and hope for the best? The clouds were moving fast and the thunder was far away, so we risked it. We'd reached a tree-tunnelled road when the storm broke. We were next to an electricity substation and a field bounded with an electric fence. The trees were lashing in the wind. We escaped into the woods.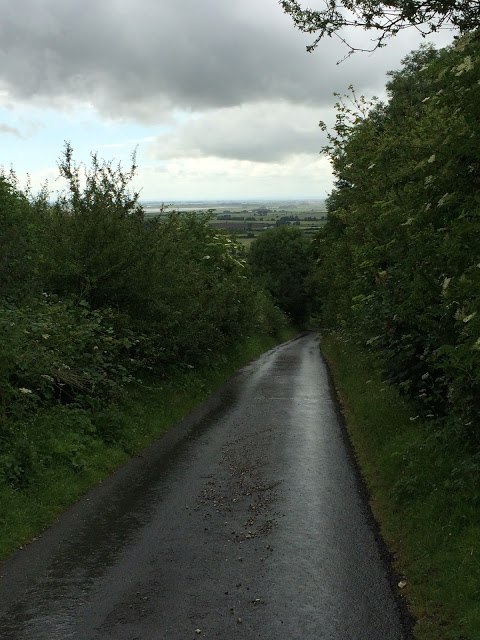 The rain kept on for longer in the woods, dripping from the branches when the sunshine was already drying the fields. We saw the River Humber through the trees, shining silver-brown in the sun. We walked through a lot of woods today. Most of the wolds at this end of the walk are wooded. The path continued through woods all the way from here to North Ferriby.
By now I was in pain. About fifteen miles in, I'd started to feel a niggle in my right buttock. It was more than a niggle now and there were five miles still to go. There's a train station in North Ferriby, and we considered calling it a day. But I wanted to see the Humber, and by the time we got down to the river path it seemed a shame to turn back, so we carried on. Poppy gave me ibuprofen.
The Humber Bridge didn't seem that far away. It was sunny with no signs of storms, pleasantly breezy and the path was populated by dogwalkers, runners and cyclists. If it wasn't for the pain in my bum and twenty two miles already on the clock, it would have been a very pleasant way to spend the afternoon. To distract me Poppy told me the story of Samwell Tarly who she forgot to mention earlier.
On the train Poppy's ankle began to hurt – we were a pair of cripples by Doncaster. After three changes and delayed trains, we finally got home at 10.30pm, delighted to see Johnny with the car at the station.
26 miles.