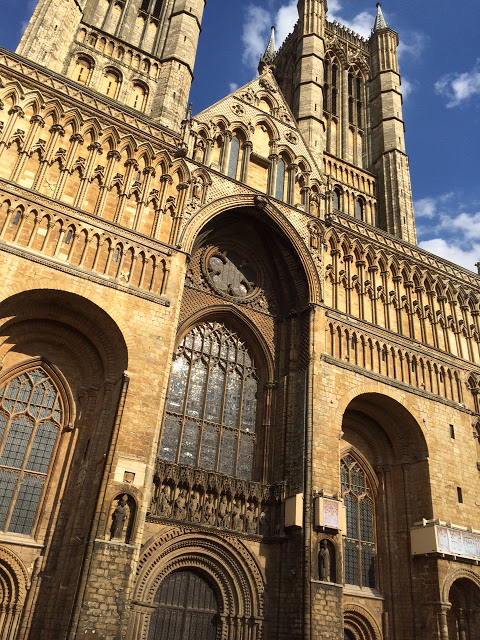 Today was our day off walking. In the morning, after a dog love-in over breakfast at our dog friendly B&B, I went to Lincoln Central Library to give a talk about my walk and the novel that will come out of it.
It's very odd to give a talk about a novel before you've written it. I found myself asking the audience if any of them had any suggestions for what I should put in it – but none of them had. However, some of them were well-versed in the history of saints, and in Bede and even Etheldreda to an extent. We talked a bit about the unreliability of received history, and I did tell them I may well twist it to my own ends, as, after all, I do write fiction and make it all up. They didn't seem to mind that much.
I'd wondered about getting the bus out to Stow, a few miles north of Lincoln, where Etheldreda is supposed to have stayed and stuck her stick in the ground and it sprouted. Some of the Lincoln Library ladies said I mustn't miss it as it's amazing. But it seemed a very active way to spend a day off, so I have decided to come back another time to do that.
We spent the afternoon being tourists.
We had lunch at a pub, then later, after dropping off our really stinky clothes at the launderette, we walked around the superb cathedral.
Admired the strange and wonderful stone carvings.
Posed with walls, sculptures and statues.
Then had a drink on a roof terrace.
Lincoln is a lovely city, and really we've been too tired to make the most of it.  Our landlady in Woodhall
Spa told us that the top of the hill was lovely, but down at the bottom of the hill was not so lovely. The top part of town is the historical bit, with cathedral, castle, museums, cobbled streets, small shops and cafes. Down the hill are high street shops and bars. There was a definite downward flow as the evening
began – that's where life happens in Lincoln after dark. Johnny agreed with the landlady, but if it wasn't for dogs and children, I think I'd have been off down the hill too.