One of the issues on this walk so far has been, what will Poppy eat? If she eats wheat, she has awful stomach ache and feels ill. So that means no sandwiches, no toast, no cakes or biscuits. Most easy travelling food is out. She has to read the ingredients on everything. Most of the B&B's we've stayed in have been pretty good, but today we discovered that heaven for the gluten intolerant is Filey.
The train was pretty full on the way here, families with small children, couples, an older couple with their little granddaughter. Everyone changed at Seamer and got off in Filey. It was pretty grey. We found our way to our B&B where Chris, the proprietor, welcomed as and gave us the most thorough induction talk we've had yet. By the end we knew every facility in the room, the house and the town, and how to find any that weren't already there. He'd got gluten free bread in for Poppy and gluten free sausages.
The chip shop on the corner had a huge banner advertising gluten free fish and chips. We just had chips and curry sauce, but they were the best chips I've had in years. Then we went to the supermarket to stock up on provisions for the walk. Poppy said it was the best free-from selection she'd ever seen. And it wasn't just in one section, gf foods were marked throughout the shop.
While we were in there, talking loudly about which foods were good for energy, light to carry, if we ought to have a hipflask, we suddenly realised that everyone else in the shop was silent and still, frozen mid-tasks, their shopping half packed, shelves part stacked, trolleys stopped in the middle of the aisles, footsteps arrested. And they were all frowning at us. We caught each other's eyes, our laughter shrivelled in our mouths. Then suddenly everyone came back to life and supermarket business resumed as normal. It took us a moment to realise we'd just chatted and laughed our way through two minutes silence for VE day. That's unless it was in remembrance of the country pre-election. But I doubt it, we'd very definitely come to a blue part of the map.
Poppy was so delighted with our food that she arranged it on the bed at the B&B like some kind of middle class hamper.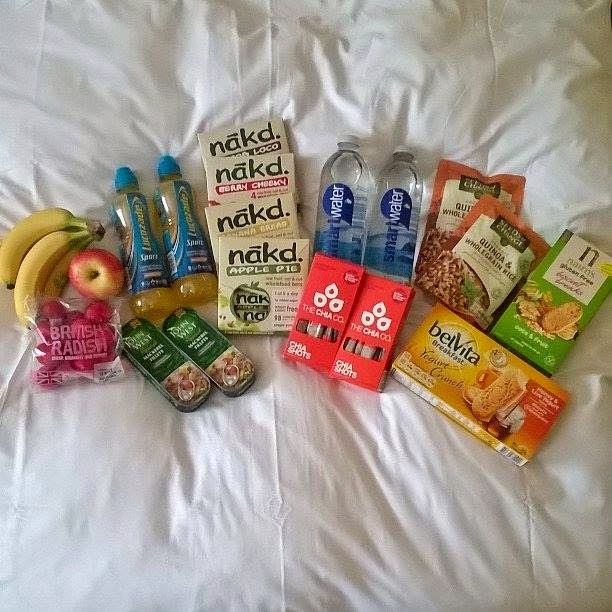 Leaving her to revise Wordsworth, I went to Filey Library to meet the reading groups and talk to them about the project. They'd just read A Walk in the Woods by Bill Bryson, and I wondered if my 500 miles through rural England seemed a bit tame compared to his Appalachian adventure. I wasn't likely to meet any bears to be honest. But they were lovely and asked me lots of questions and when I left they gave me a chocolate shell full of chocolates in a box tied with ribbons.
It had started raining, really raining. I collected Poppy and we went to find dinner. The Italian restaurant which advertises itself as having gluten free food was full, so, dripping wet, we went to the other Italian, San Marco, where the chef went out of his way to cater for Poppy's needs and the food was delicious.
Then, full, rain-soaked and sleepy, we returned to the B&B to address our election-result-sleep-deprivation.