To book call 0345 045 5225
In this workshop Anna will share some of her experiences of the walk and how it fed into the writing process. Together, we will look at some of the ways we can use history – stories, places, artefacts – to inspire new writing.  This workshop is suitable for experienced writers and for beginners, for poets, storytellers and writers of non-fiction, and anyone who just wants to have a go.
This workshop will run at two Cambridgeshire Libraries.
To book call 0345 045 5225
In 2015 Anna Chilvers walked from St Abbs in Scotland to Ely in Cambridgeshire, a total of 500 miles, in the footsteps of 7th Century princess, St Etheldreda. Anna has since used this experience as the basis of a novel.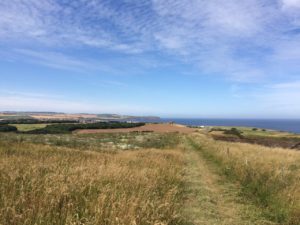 In this illustrated talk Anna will talk about some of her experiences, and how she has used them to help create fiction. She will also read extracts from the completed novel.
To book contact Oakham Library on 01572 722918
A complete introduction to plotting and planning your novel. This intensive yet enjoyable course will enable writers to get to grips with the key concepts of novel writing as well as providing space for writing and giving and receiving feedback. Led by two published novelists.
Led by two published writers (AJ Taft and Anna Chilvers), the course will consist of workshops, focus sessions and peer assessment groups. The weekend also includes the chance to meet a publisher in order to learn more about the industry and what today's publishers are looking for.
The course consists of workshops, focus groups, independent writing time and peer assessment. We will look at some of the basic concepts in story telling, including how to create vivid and engaging characters and plot lines.
Tutors are Anna Turner and Alison Taft
Are you a writer, artist or musician but you've never managed to develop that part of your life? This course will help you to access and express your creativity. This is not a writing course but it will involve writing.
Based on the book by Julia Cameron
This is a 12 week course
£120 (£95 concessions)
To book email wordsandwalking@gmail.com
This one day course is a chance to devote a day to writing creatively. Come along and flex your writing muscles, extend your skills in creative writing and maybe discover your writing voice. Suitable for beginners and those with some experience.
£17.25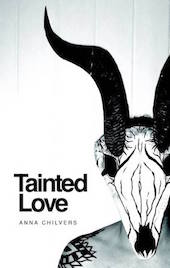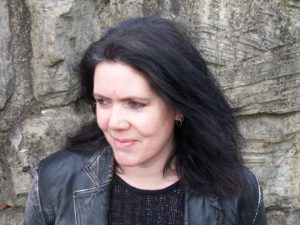 Tainted Love, the second novel of Anna Chilvers, is a gothic tale set in the Upper Calder Valley. The narrative arc spans the last 200 years, from the Industrial Revolution to the present day.
Anna will read from Tainted Love and also give a presentation on the Dark Satanic Mills of West Yorkshire.
For more information please contact 01422 288040
Tickets are free from www.ticketsource.co.uk (a small booking fee may apply)
'The Gothic North' Symposium chaired by Dr Linnie Blake also including 'Horror: A Literary History' book launch and wine reception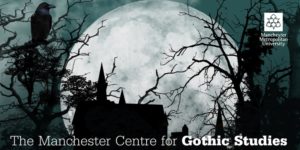 In the year in which Manchester recognises the Gothic dimensions of the city in a programme of thrilling Halloween events (for which we are happy to take some credit), the Manchester Centre for Gothic Studies continues to go from strength to strength. We are delighted to welcome the distinguished academic Professor Dale Townshend and the hugely talented novelist Andrew Michael Hurley as new members of staff at Manchester Met and new members of the Centre. Both will make a great contribution to our work and to future Gothic Manchester Festivals.
So, in keeping with our reputation for Gothic excellence in the fast-beating heart of the North, we are proud to present the fourth annual conference of the Gothic Manchester Festival – an event that explores the contribution made to the Gothic mode by places, people and things northern. Presentations range from the Lancashire witches to West Yorkshire's dark satanic mills, from Doom Metal, northern Goth music and Gothic subcultures to horror poetics, from Nordic vampires to the Hull werewolf and from the frozen landscapes of the north to Jane Austen's Northanger Abbey. Presenting their work are creative writers and PhD students, early career researchers and internationally recognised specialists in their fields. All are committed to giving exciting and accessible papers of interest to anyone who wants to know more about the darkness that lurks beneath the surface of the northern world and manifests itself in stories and novels, films, television programmes, poetry, music and more. As ever, no specialist knowledge is needed but an interest in the grimness of the Gothic north is essential.
The symposium will finish at 6pm and be followed by the book launch of 'Horror: A Literary History', a wine reception and another fantastic cake creation from Conjurors Kitchen