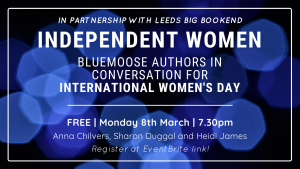 In 2020, indie publisher Bluemoose Books decided to publish novels only from female authors. Those writers were Anna Vaught, Heidi James, Sharon Duggal and Anna Chilvers. This panel event brings Heidi, Sharon and Anna together to talk about writing, their lives and what the future holds, and will be chaired by Bluemoose Editor, Annie Warren.
This is a free event with an option to donate. All proceeds raised will be split equally between our four panellists. We really appreciate any amount that you can spare. Please register on the Eventbrite link and you will be sent a Zoom link for the event on Sunday 7th March at 5.30pm.
This is a partnership event between Leeds Big Bookend and Bluemoose Books. Copies of Bluemoose books can be obtained from: https://bluemoosebooks.com/ and other titles from the independent presses themselves or an independent bookshop near you.