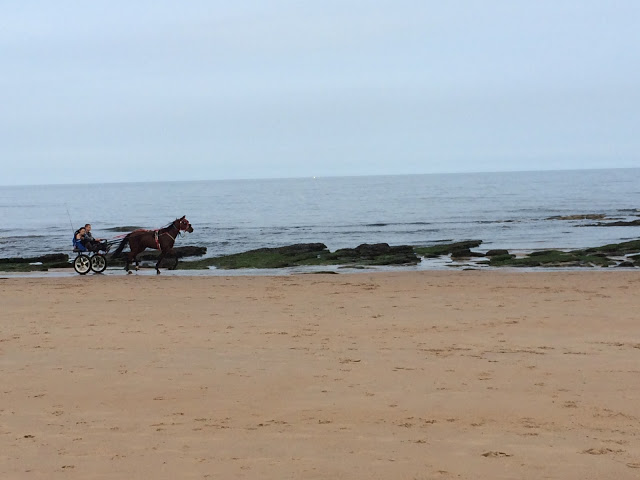 Leaving our car to fend for itself in Berwick upon Tweed for a week, we caught a crowded noisy train to Newcastle, then the Metro out to the coast.
The Northumberland Coast Path begins with a walk out of Newcastle along the river, and I wouldn't have minded that, but Johnny wasn't keen, and I was quite excited to use the Metro anyway. It's the oldest underground train network in Britain other than the Tube, and even better, most of it is overground so we could see the places we would have been walking though. Also, I kind of feel like it's in the spirit of this walk to take little hops on public transport now and them, as I'm sure Etheldreda would have been happy to accept a lift with a kindly stranger on their cart if the opportunity arose.
We got off at Cullercoats.
My intention was to walk the length of Cullercoats Bay and then round into Whitley Bay, dump our bags at the B&B then go for a walk to St Mary's Lighthouse. However, the Metro stop was at the wrong end of
Cullercoats Bay and we were already round the corner from where we were staying.
We walked one and a half miles and already we were in the middle of Whitley Bay. We ate sandwiches on sea front by Spanish City accompanied by a brass band.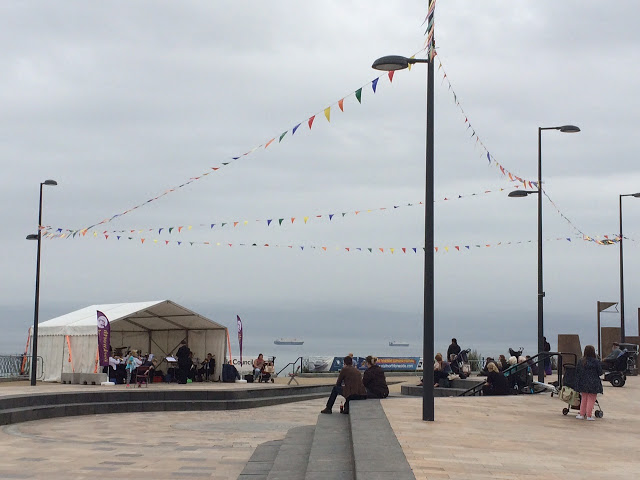 Whitley Bay is run down.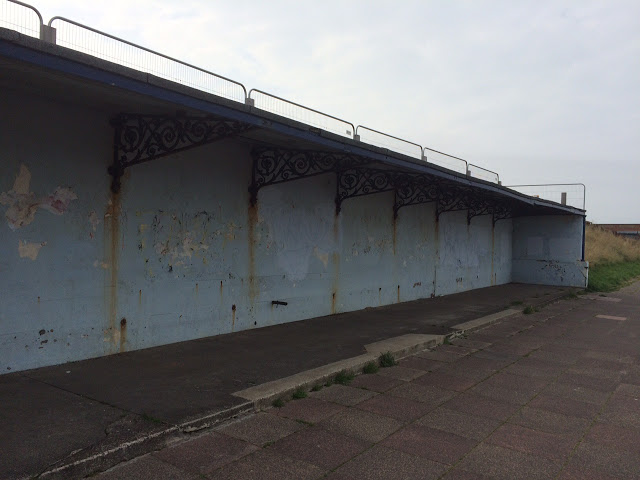 A lot of the promenade is closed, railings are coated with rust and the sea walls are crumbling. The public toilets haven't seen a lick of paint since around 1960.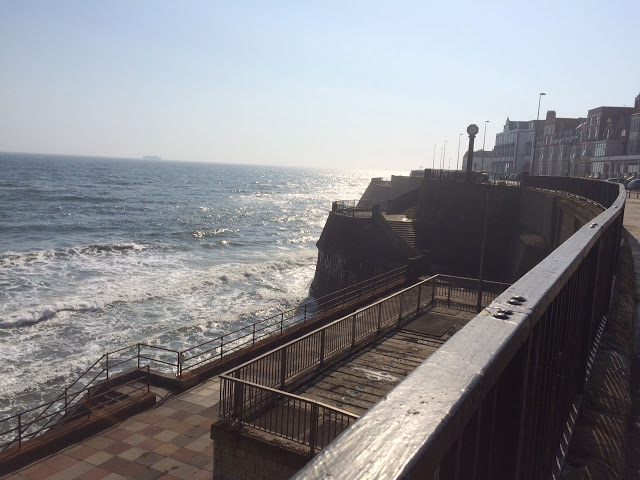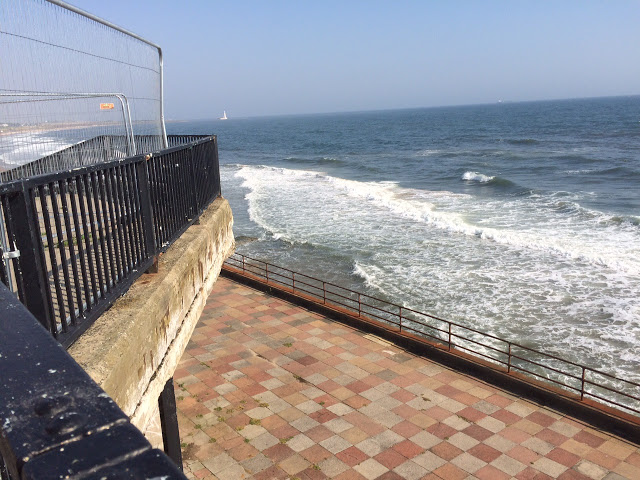 The Spanish City concert hall is closed.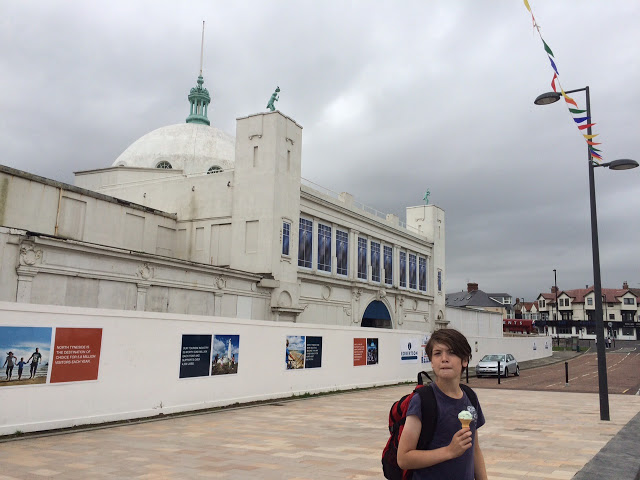 But there are big plans for refurbishment, which has already started in the centre, with new paving, railings and seats.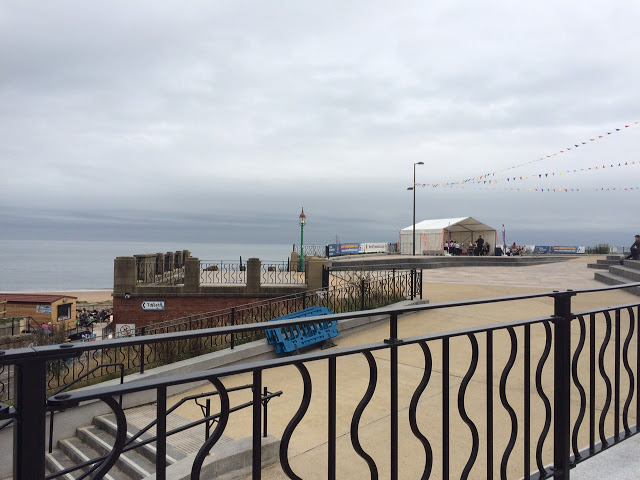 I hope it all goes to plan, because it's sad to see the place like this. The beach is wonderful …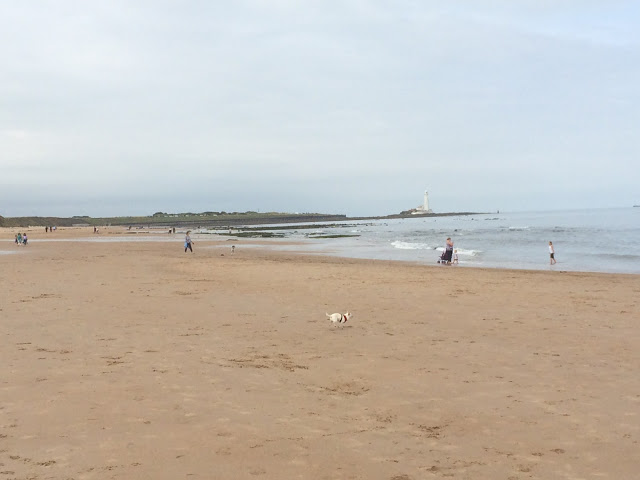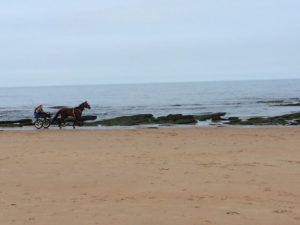 … but half an hour from Newcastle in August and there's hardly anyone on it.
Once this must have been a thriving resort. I closed my eyes and listened to the band playing the Floral Dance backed by the rhythm of the waves, and I could imagine a different time when there were lots of people, donkeys, rides and amusements: when all the shopfronts on the prom, now abandoned and inaccessible, were busy and bustling. The  sound of the band is like a ghost of that time. When I opened my eyes there was just a refreshment kiosk and a handful of people. But maybe it isn't a ghost of the
past but a harbinger of the future. I hope so.
We checked into  the Lighthouse Guesthouse (love the name!) and then walked the couple of miles to
St Mary's Lighthouse.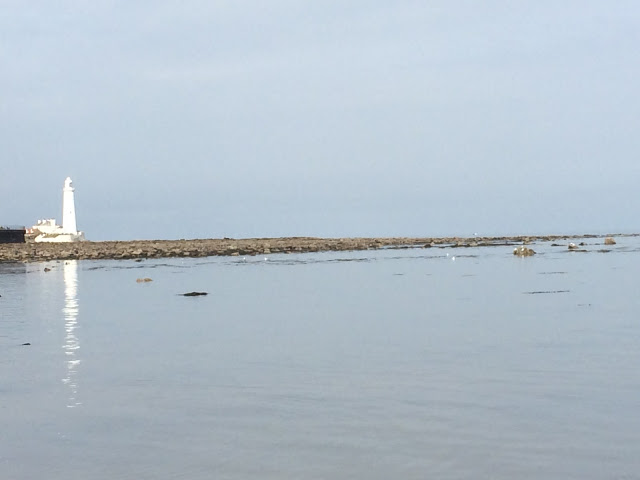 There are signs saying no dogs allowed on beach, but there were so many dogs on the beach it would have seemed silly to be the only people obeying the rules.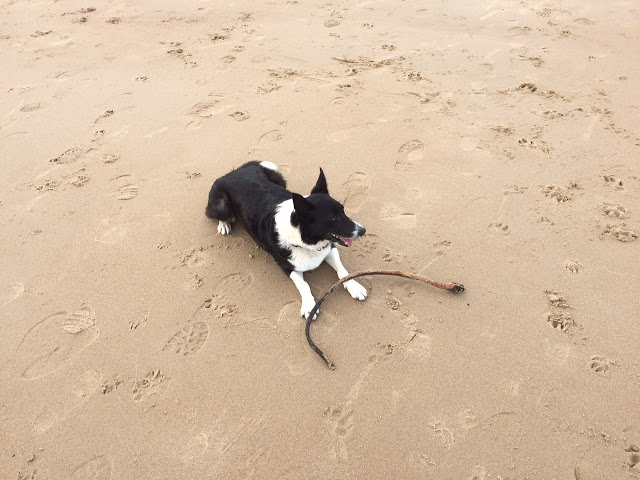 Where were all the people?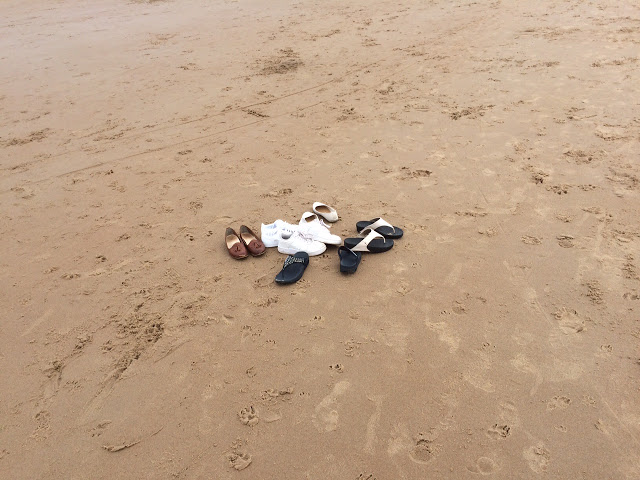 Ah! They're all at the lighthouse.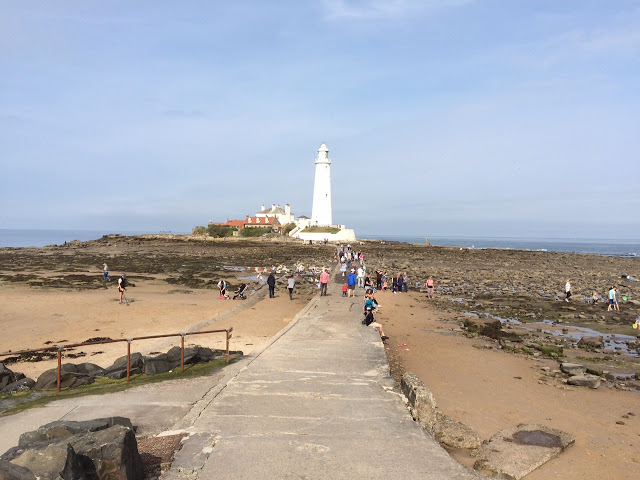 Johnny had a fab time looking at the birds.
Then back to Whitley Bay where we had fish and chips, and later there was an enormous storm.
I don't think I'd come on holiday to Whitley Bay. Even when all the work is done – it's not my sort of place. But if I lived in Newcastle I would definitely come here for a day out, and I'm sure there are thousands of others who would too. I hope I come back in 10 years and find it bustling, that Whitley Bay can be the place to be.
7 miles.