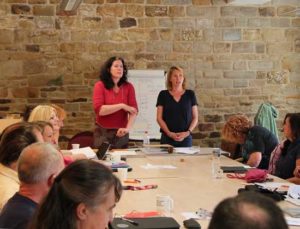 I have worked with many groups of people and in many environments. I teach a regular weekly class, have worked with a young writer's group, taught on residential courses and led one-off workshops. I enjoy working with people as they discover the sort of writer they want to be, exploring their blocks and helping them to release their own flow of creativity. As a writing teacher I see myself as a motivator and enabler, helping people to find the tools they need and encouraging them to use them to reach their personal goals, whatever they may be.
I can offer workshops for adults or teens on:
Creative writing
All aspects of fiction writing
Walking and writing
Poetry
Creativity
The Artist's Way
If you are interested in something specific, please contact me to arrange the workshop which suits you.
Some things people have said about my workshops:
I want to say thank you for running the novel writing course. It brought the idea of writing one down from the realms of fantasy to possibility.
Student on WEA Novel in a Year
We certainly enjoyed it – several people were saying afterwards that they'd love you to come again!
Phoenix Writers
Having studied Creative Writing in University and community settings and at Arvon, I consider it to be the best tuition in this subject I have received yet.
Student on WEA Residential

I accessed parts of myself today that I didn't even know were there.
Student, Berwick upon Tweed